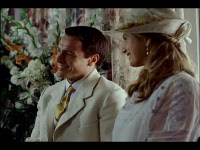 The Great Gatsby is probably F. Scott Fitzgerald's greatest novel--a book that offers damning and insightful views of the American nouveau riche in the 1920s. The Great Gatsby is an American classic and a wonderfully evocative work.
Like much of Fitzgerald's prose, it is neat and well--crafted. Fitzgerald seems to have had a brilliant understanding of lives that are corrupted by greed and incredibly sad and unfulfilled. The novel is a product of its generation--with one of American literature's most powerful characters in the figure of Jay Gatsby, who is urbane and world-weary. Gatsby is really nothing more than a man desperate for love.

Overview: The Great Gatsby

The novel's events are filtered through the consciousness of its narrator, Nick Carraway, a young Yale graduate, who is both a part of and separate from the world he describes. Upon moving to New York, he rents a house next door to the mansion of an eccentric millionaire (Jay Gatsby). Every Saturday, Gatsby throws a party at his mansion and all the great and the good of the young fashionable world come to marvel at his extravagance (as well as swap gossipy stories about their host who--it is suggested--has a murky past).

Despite his high-living, Gatsby is dissatisfied; and Nick finds out why. Long ago, Gatsby fell in love with a young girl, Daisy. Although she has always loved Gatsby, she is currently married to Tom Buchanan. Gatsby asks Nick to help him meet Daisy once more, and Nick finally agrees--arranging tea for Daisy at his house.
The two ex-lovers meet and soon rekindle their affair. Soon, Tom begins to suspect and challenges the two of them--also revealing something that the reader had already begun to suspect: that Gatsby's fortune was made through illegal gambling and bootlegging. Gatsby and Daisy drive back to New York. In the wake of the emotional confrontation, Daisy hits and kills a woman. Gatsby feels that his life would be nothing without Daisy, so he determines to take the blame.

George Wilson--who discovers that the car that killed his wife belongs to Gatsby--comes to Gatsby's house and shoots him. Nick arranges a funeral for his friend, and then decides to leave New York--saddened by the fatal events and disgusted by the easy way lived their lives.